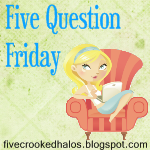 Happy Friday y'all!
1. What's your "comfort food"?
I think I'd have to go with Suzy Q's! Oh my...the chocolate cake with the creamy middle...YUM! They can fix most things.
2. Do you send Thank You's (handwritten or email)?
Depends. I'd prefer e-mail but sometimes it has to be written.
3. If you had to be trapped in a TV show for a month, which show would you choose?
ummm...I don't know. This is hard! ok, I consulted with Julieanne and she thinks The Bachelorette! Reason? Because you'd have all those men catering to you. Funny stuff, huh? A different time in my life...yep, that would work! Ha!
4. What is your favorite online recipe site?
That requires cooking right?! :) ok, ok I guess allrecipes.com
5. If you had to choose: "Friends" or "Seinfeld"?
Most def Friends
Come on, play along!