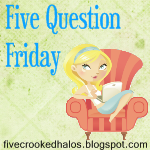 1.
What is better, growing old with out money or dying young and wealthy?
Wow, that's deep. I guess old without money. Live life, right?!



2.
Who takes out the garbage at your house?
That'd be Duffy's job! Every Thursday morning...well most Thursday morning's when they show up ;)



3.
Have you ever had the same dream many times?
I don't think so, not that I remember.



4.
Can you play a musical instrument?
Does the guitar in Band Hero count? 'Cause if it does, I'm starting to rock that...otherwise, no!
5.
If you owned your own store, what would you sell?
A greeting card store for sure! Stock 'em and go home...right Luanne?! :)
Hope y'all have a great weekend!